Description
Do you find it difficult to interact with certain people at work? Have you noticed tension between certain team members in your department? This can be a common situation when our approach to problems, our values, and our beliefs differ. When we can understand that we all have our own perspective, shaped by different backgrounds and personalities, we can realize that these differences aren't bad – but interesting and valuable. Learning how to broaden our perspective improves our ability to connect, collaborate, and communicate with the people around us. This program uses neuroscience and DiSC personality styles to help people understand their perspectives, and identify and adapt to the perspectives of others.
Basic Course Information
Learning Objectives
​Explore what shapes our individual perspectives and why people have a strong reaction to someone with a different perspective than theirs
Discover how knowing our personal style (personality type) can help us adapt our style for improved interactions
Consider what tools and activities would help you and your people broaden your perspective for better communication, collaboration, and connection

Major Subjects
Emotional Intelligence
Communication
Teamwork
Faculty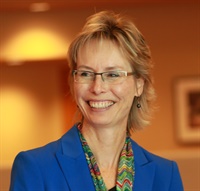 Positive Edge
---
Tina Hallis, Ph.D. is the founder of the Positive Edge. She is certified in Positive Psychology through the WholeBeing Institute and a Professional Member of the National Speakers Association. She is the author of Sharpen Your Positive Edge: Shifting Your Thoughts for More Positivity & Success. Tina worked for 20+ years in Biotechnology before discovering a new science called Positive Psychology in 2011. Seeing the powerful impact this information has on improving people and organizations, she decided to create her own company, The Positive Edge. Her focus is to share insights and strategies that help employees, managers, and leaders build their positivity skills. Studies show that increased positivity activates our ability to learn and make better decisions, broadens our perspective to see more possibilities, improves our interactions and relationships, and strengthens our resilience to stress and overwhelm.
---
Dates
Tue, Aug 03, 2021 - 09:00am to 10:08am CDT
Mon, Aug 23, 2021 - 11:00am to 12:08pm CDT
Thu, Sep 02, 2021 - 01:00pm to 02:08pm CDT
Wed, Sep 22, 2021 - 03:00pm to 04:08pm CDT
Tue, Oct 05, 2021 - 09:00am to 10:08am CDT
Mon, Oct 18, 2021 - 11:00am to 12:08pm CDT
Thu, Nov 04, 2021 - 01:00pm to 02:08pm CDT
Tue, Nov 16, 2021 - 03:00pm to 04:08pm CST
Thu, Dec 09, 2021 - 09:00am to 10:08am CST
Sat, Dec 18, 2021 - 11:00am to 12:08pm CST
Additional Info
Basic Course Information
Advanced Preparation None
Course Developer Tina Hallis
Designed For All Professionals
Prerequisites None

Additional Information
Complaint Resolution Policy Please contact Jessica Vieira with any complaints at jessica.vieira@acpen.com, (617-519-6790).
Course Registration Requirements Online Registration
Instructional Delivery Method Group Internet Based
Refund/Cancellation Policy Please contact the HREN help desk 1-877-602-9877 or help@HREducationNetwork.com if you wish to cancel your attendance for a previously purchased webcast and are requesting a refund or transfer.
HRCI Accreditation Information HR Education Network is a recognized provider of recertification credits. HR Certification Institute® pre-approved this program for 1 HR (Business) credit towards aPHRTM, PHR®, PHRca®, SPHR®, GPHR®, PHRiTM and SPHRiTM recertification.
SHRM Accreditation Information HR Education Network is recognized by SHRM to offer SHRM-CP or SHRM-SCP professional development credits (PDCs). This program is valid for 1 PDC. For more information about certification or recertification, please visit shrmcertification.org.

Promo Video